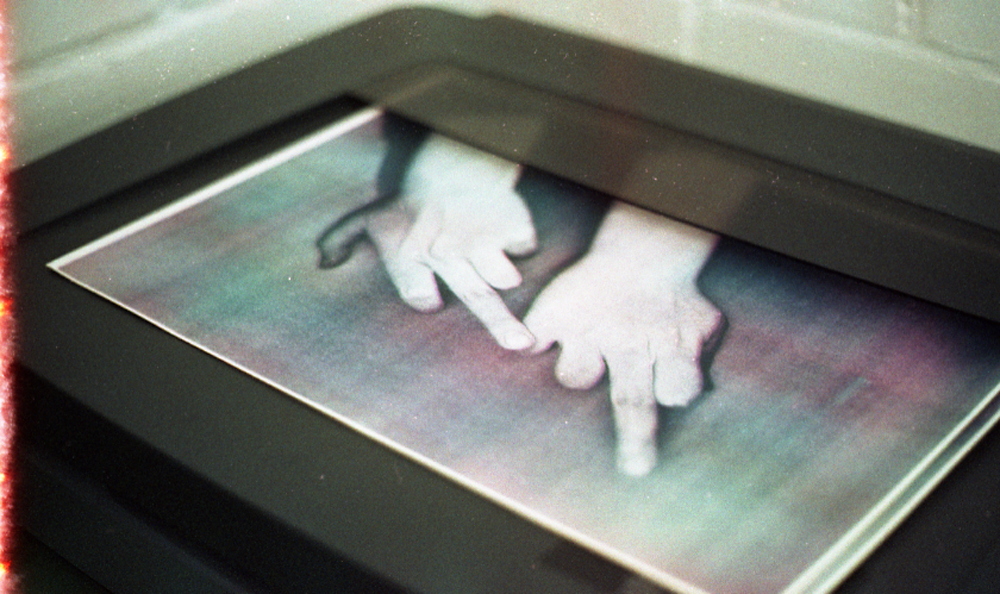 Riso printed Fingers of the Photocopieuse, 2017

Bottom UP coming
Micro Zyklust (spring), 2021
Brave New Words, 2021
recurring polyvaguinal VVAVES by PMS w/ MAR, 2021
---
Artist in Residence: 
2020, Empty Space Residency. A Format created by The Void together with URC* and the live living practice of a PostPMS no.bot –
facing times of CCCCC (Capital Collective Crisis as a Chance for Change) during a physically distanced future/past 2K20.
August 2016, Floodwater Residency des Westwendischen Kunstvereins.
Leben im Stelzenhaus in Gartow am See, Wendland, DE.
February 2016, Norðan Bál – Old School Arthouse Residency
with grant for a free stay by Akureyri Town at Hrísey, Iceland.
Art Assistant:
february 2021
Assistent Manager / Visitors
Schloss Derneburg Museum / Hall Art Foundation
Holle, Lower Saxony, DE
october 2019 – july 2020
DAAD guest professor Donna Kukama (performance)
HBK Braunschweig – University of Art, DE
october 2018 – march 2019
at Scuola Internazionale di Grafica di Venezia, Italy

october 2013 – march 2014
at Skaftfell Center for Visual Art, Seydisfjördur, East Iceland
Grants:
Deutschlandstipendium 2019-2020
Performances: 
2 x 4,5 = 9M blù. MUNTE R bleiben, 2021
Uterus Walk. BS, 2021
BdU virtù-real (library of the unspeakable), Sprengel Readymades 2020
4M doing and undoing blù. Steigenberger Parkhotel Braunschweig, MMXX
aktiv Blau machen. HBK BS, MMXX
4M blù. Steigenberger Parkhotel Braunschweig, MMXX
library of the unspeakable / Bibliothek des Unsagbaren, 2020
body rolls by Luis Prune Verte. Städtische Galerie Delmenhorst, 2018
FFOSSIP / SSIP FFO. Rundgang HBK BS, 2017
#This ain't no vandalism (this is chalk). Rundgang HBK BS, 2017
Temporäre autonome Zone. LAGEEGAL Berlin, 2017
Das ist das Mindeste, was ich tun kann. Schaufenster Kunstkammer WWK Gartow, 2016
Kirschstengelknoten. MS Artville Festival Hamburg, 2016.
Mún heppni finna mig? Hot Pot at the swimming pool on Hrísey, Iceland 2016
Ash 2B. Finissage ISLAND.experience. EinRaum Galerie Braunschweig, 2015
Friðþóra, the friendly flower feminist. Berlin, 2015
7 Tage Frischegarantie. Braunschweig, 2014
476. Rewe Braunschweig, 2014
sheppie – recurring. 2011–2014
Exhibitions:
2021
PMS LPV HLB MCD / URC* zeigen
2 x 4,5 = 9M blù:
Wanderung mit Uterus
I AM WE • WIR SIND NOI • YOU ARE COLLECTIVE
Wir werden immer MUNTE_R bleiben, denn
Kunst lässt Leerstand leuchten!
Waisenhausdamm 8-11 | 05.03.–14.03.2021
Allgemeiner Konsumverein Braunschweig
2020
M (by URC*)
insta virtù-real
Diplomausstellung
Klasse Breitz-Cortiñas
HBK Braunschweig – University of Art, DE
Collective Survival
library and inside garden RUNDGANG / OPEN STUDIOS 2020
performance class (Donna Kukama)
HBK Braunschweig – University of Art, DE
LUNCHbeat Xtended 
RUNDGANG / OPEN STUDIOS 2020
Mogi, HBK Braunschweig – University of Art, DE
Work-Life (un-)balanced
auratic space performance and audio visuelle Real,- Installation
studio visit on demand
panta rhei, IT/DE
as part of group exhibition RUNDGANG / OPEN STUDIOS 2020
Klasse Raumkonzepte (Cortiñas–Breitz)
HBK Braunschweig – University of Art, DE
library of the unspeakable / Bibliothek des Unsagbaren (performance)
in group exhibition Stipendiatinnen Ausstellung DE Stipendium
Hochschulgalerie, HBK Braunschweig  – University of Art, DE
2019
33. Internationales Filmfest Braunschweig 
panta rhei, IT/DE
in 'Bestimmte Körper' Program Klasse (Cortiñas–Breitz)
auf_begehren | on_desire
Perspektiven, Positionen, Performanzen.
Klasse Raumkonzepte (Cortiñas–Breitz)
Galerie vom Zufall und vom Glück, Hannover, DE
Laufendes // Studierende von Agnieska Polska
(Klasse Candice Breitz) Landesvertretung Niedersachsen
In den Ministergärten 10, Berlin, DE
NERO–NOIR
at Scuola Internazionale di Grafica di Venezia – fine young art by
Eva Martìnez
Marie Dann
All works presented have been realized due to the traditional printing techniques such as bulino, dry point and aquatint.
Cannaregio 1798, Calle Seconda del Cristo, Venice, IT
NOIR
at Caconero Venezia – fine young art by
Eva Martìnez
Marie Dann
All works presented have been realized due to the traditional printing techniques such as bulino, dry point and aquatint.
Dorsoduro 2344, Fondamenta Barbarigo, Venice, IT
2018
NERO
at Café Noir Venezia – fine young art by
Eva Martìnez (littlewasp)
Marie Dann (_sl__f)
All works presented have been realized due to the traditional printing techniques such as bulino, dry point and aquatint.
Dorsoduro 3805, Crosera San Pantalon, Venice, IT
32. Internationales Filmfest Braunschweig 
BODY ROLES (POSTURE) 
in Program Klasse Candice Breitz
BODY ROLES (POSTURE)
Haltung I-III
as part of group exhibition RUNDGANG / OPEN STUDIOS 2018
Klasse Raumkonzepte (Candice Breitz)
HBK Braunschweig – University of Art, DE
Something old, something new, something borrowed, something blue
group exhibition
Klasse Isa Melsheimer. HBK Braunschweig – University of Art
Remise der Städtischen Galerie Delmenhorst, DE
EMAF – European Media Art Festival No. 31
group exhibition
Klasse Raumkonzepte (Candice Breitz).
HBK Braunschweig – University of Art
Theaterpassage Osnabrück, DE
ZWISCHENZWISCHENMIETE
Neustadtring 47 – 38114 Braunschweig – schöne 1-Zimmer Wohnung 34m2
group exhibition
OPENING: FREITAG 6.4.2018 18.00 & zur Eröffnungsbesichtigung:
Suppe in der Wohnung / Getränke bei Bier- und Wurstkontor Gaststätte
SA & SO 7.4. & 8.4. 15–20.00 + 17.00 Kochperformance
mit: constanze böhm, lexi schnäbele, constanze klar,
sophia baader, kim wiegand, jana doell, marie dann, jaq lisboa, thurid
NIGHT SHIFT
group exhibition
Klasse Isa Melsheimer & Klasse Raimund Kummer
ARTMAX | Ateliers der Klassen Kummer und Melsheimer
Frankfurter Straße 3 – 5, Braunschweig, DE
2017
#This ain't no vandalism (this is chalk)
Double Performance during and after
Protest Rundgang – OPEN STUDIOS 2017
Klasse Aktion
HBK Braunschweig – University of Art, DE
This must be the place
group exhibition during 20th Zinnober Hannover
Klasse Nadine Fecht on contemporary drawing
ad/ad Project – Space, Hannover, DE
IN TIMES LIKE THESE
group exhibition with Performance and Talk
during Gallery Weekend 2017
Klasse Nadine Fecht with students of HBK Braunschweig – University of Art
Lage Egal, Berlin, DE
2016
Mondglas (Feige)
Installation und Kirschstengel knoten barfuß im Kubus.
[Mondglas Skulptur aus Polyurethan, Angelschnur, Kirschen, Kirschstengelknoten auf Stecknadeln auf Kirschholz, Kannst du mal halten? – Zines auf Kopierpapier im Holzregal, Vulva – Das unsichtbare Geschlecht (Mithu M. Sanyal), Uterus + lunarcup embroidery on skiny shirt by doerpinator, Nachts sind alle Katzen grau –Ausstellungsdokumentation.]
MS Artville Hamburg, DE
Faktum 3 (Femikeule)
as last minute part of group exhibition RUNDGANG / OPEN STUDIOS 2016
Klasse Raumkonzepte Candice Breitz.
HBK Braunschweig – University of Art, DE
Heute kein Essen. Heute Espresso
group exhibition RUNDGANG / OPEN STUDIOS 2016
Grundklasse Sonja Alhäuser.
HBK Braunschweig – University of Art, DE
We will be an island on an island on an island
Open Studio and concert with Jake Minter, Ana Kodama und Sara Zollinger. Gamla Skóla, Hrísey, IS
2015
Dinge sprechen
Kirschstengel und Knoten
Weltenmuseum Wien, AUS
Nullnulleins
HBK Braunschweig – University of Art, DE
LUNCHbeat, an audio-visual travel in time. On water and FLOWmotion.
Bachelor Presentation
HBK Braunschweig – University of Art, DE
watch here
LUNCHbeat BS
open dance space at
HBK Braunschweig – University of Art, DE
KRISTEL 04 – Endlicher Anfang | Anfängliches Ende
group exhibition for release of KRISTEL Magazin.
Café Riptide Braunschweig, DE
ISLAND.experience analogue photography 
einRaum 5-7 Braunschweig & Café Riptide.
Finissage: Ash 2B und Konzert mit "Prince Heka"
All cats are grey at night. /// Nachts sind alle Katzen grau.
group exhibition/Interventions Hochschulgalerie
HBK Braunschweig  – University of Art, DE
2014
IS.ex
Installation and photography
HBK Braunschweig – University of Art, DE
7 Tage Frischegarantie
double audio-olfactory installation
unisex toilets
HBK Braunschweig – University of Art, DE
23:58 – Just a little time
Installation and photography
Bookshop Project Space, Skaftfell Center for Visual Art East Iceland, IS
2011
Land altered manscape
analogue photography
HBK Braunschweig – University of Art
Jour Fixe 9, LOT Theater, Braunschweig
Memento III
group exhibition at:
Art EZ Academy of Art and Design Enschede
Wimbledon College of Art
UWE Bristol
EASD in Valencia
Crawford College of Art and Design in Cork
Sint-Lukas, Brussels, Belgium
Published:
Micro Zyklust (spring collection 2K20)
2023, Edition Error
Micro Zyklust (fall to spring 2019)
2022, Edition Error
Micro Zyklust (spring 2018)
2021, Edition Error
M1-6 (Anarchyve)
Digit Analog, iPhone SE Edition of 6
MXV-MMXX
L'uccellino fa
in: ewa lesny, Katalog 2019
Wandzeitung
2017, Nadine Fecht with students of HBK Braunschweig – University of Art
Herzog Anton Ulrich Museum, Braunschweig, DE
In Times Like These
2017, Exhibition catalogue
Nadine Fecht with students of HBK Braunschweig – University of Art
Lage Egal, Berlin, DE
KRISTEL 02, 03, 04, 05
2014–17, Magazin von Studierenden der
HBK Braunschweig – University of Art, DE
IS.EX
2014, hand bound picture book for grown ups with analog photographs from ISLANDexperience 2013–14.
Handgemacht, Edition of 45.
one copy each in:
Skaftfell Center for Visiual Art, Seydisfjördur, East Iceland
Scuola Internazionale di Grafica di Venezia, Italy
Studies:
Kommunikationsdesign / Visual Communication (Bachelor of Arts)
2010–2015 HBK Braunschweig – University of Art
Alexandra Martini Roberta Bergmann Uli Becker Gundel Scholz Michal Ciecimirski Hanna Jahn Ulrike Necker Ute Helmbold Ulrike Stoltz Grzegorz G. Zgraja Vicky Kure-Wu Jul Gordon Thomas Steen Veronika Wehrstedt Alex Heide Aase Sangild Thora Bergny Richard Canaday Anna Katharina Blocher Aevar Omarson Jasmin Meinold Oddur Roth Kristin Helgadóttir Unnur Andrea Einarsdóttir Tinna Gudmundsdóttir Litten Nyström Linus Lohmann
Matthias Ruthenberg Björt Sigfinnsdóttir Sara Zollinger Goddur Bergljot "Bella" Sigfusdóttir Fehmi Baumbach MuD Eroca Nicols Fanny Doberauer Ulrike Bergermann Nanna Heidenreich Dr. Reyhan Şahin aka Lady Bitch Ray Rena Onat Karen Köhler Uwe Schulz
Freie Kunst / Fine Arts (Diplom)
2015–2020 HBK Braunschweig – University of Art
Sonja Alhäuser Sandra Bödecker Martina Bothe Nadine Fecht Ralf Lücke Isa Melsheimer Ewa Lesny Frauke Dannert Candice Breitz Jana Doell Eric Wunder Rita Macedo Christine Carta Vanessa Ohlraun Julieta Aranda Roberta Feoli De Lucia Eva Martinez Marija Linkeviča Arianna Astolfi Matilde Dolcetti Franco Vecchiet Sergio Bigolin PD Packard Massimo Busetto Daniela I. Murgia Alessia de Bortoli Antoni Fournier Jenny Lazari Alessandro Zannoni Eleonora Ghedini Silvia Calderoni Rita Macedo Rolf Pilarsky Izzy Liberti Eli Cortiñas Mithu M. Sanyal Martin Salzer Donna Kukama Ana Prvački thurid Ilayda Cakir Johanna Johnen Delia Naghavi André Linpinsel Piroska Peaches